OUR TEAM
Our team comprises changemakers, healers, and visionaries— all of whom started their careers in public school classrooms where they taught for at least five years.
We each know the challenges and joys of everyday life inside our nation's public schools. And it's our passion to support educators in reclaiming their well-being—as individuals and as school site teams. We are a team of educators who have ourselves experienced burnout and chronic stress, and we now bring tools from hours of additional training in mindfulness, executive coaching, yoga, nutrition and countless other modalities of alternative healing to teachers and leaders at our partner sites.
Kelly Knoche,
Executive Director
Kelly Knoche is the Founder of The Teaching Well, a multi-leveled systemic approach to bringing wellness back into school systems. In this role she has mentored hundreds of teachers, led trainings to thousands and has built an organization committed to living its values of honest communication, somatic embodiment and transparency.
Prior to leading at The Teaching Well, she taught math, science and socio-emotional learning (SEL) for six years in public schools in Oakland. After seeing many of her colleagues leave through her years in Oakland Unified and experiencing the stressors of teaching in an under-resourced school system, she became determined to find simple, low-cost solutions to building teacher resilience. What started as a donation-based yoga program for educators (Gift of Prana) has transformed into The Teaching Well: a cost-efficient, multi-year series of professional development offerings and 1:1 coaching that is committed to increasing teacher retention, building positive communication among staff and inherently creating school environments where students can achieve.
Kelly recently completed a fellowship with TEL (Transformative Educational Leadership) which brought educational leaders together from across the country to support equitable, large-scale systemic change in K-12 education. A lifelong student of healing, spirituality and wellness, she has studied with community healers, indigenous elders and mindfulness teachers throughout the Bay Area, New York, New Mexico and Southern California. She is a certified doula, 400-hour yoga teacher and has been trained in both the Mindful Schools and Niroga Institute's Mindfulness programs.
Sonya Mehta, Director of Partnerships
Sonya Mehta lives, works, and engages in the educational justice movement in Oakland, CA. She is working to grow and scale The Teaching Well's powerful work to enable schools and networks to more effectively support, retain, and leverage the brilliance of their educators.
Prior to joining The Teaching Well in July of 2018, she spent a year working with a diverse group of early childhood practitioners, community organizers, and policy experts to create the Alameda County Child Care and Early Education Initiative (Measure A), which came close to creating the largest voter-approved public investment in early childhood education in the history of our nation. Before her work in education policy, Sonya taught kindergarten at a Title I school in the Fruitvale neighborhood of Oakland for 5 years, where she worked to launch a variety of programs including the school's first-ever educational garden and a leadership pathway program for parent leaders. She holds a BA from UCLA and a Masters in Education from UC Berkeley, and has completed fellowship programs with Surge Institute, GO Public Schools, and New Leaders Council.
Sonya sees her work in public education and teacher retention as profoundly political, with the potential for far-reaching impacts on social inequities.
Jill Thomas, Director of Curriculum and Programs
Jill E. Thomas is dedicated to supporting Oakland students by supporting the adults within Oakland schools. Most recently she served as a member of the faculty at the Reach Institute of School Leadership where she taught and coached a cohort of OUSD intern teachers who just earned their Preliminary Credentials. She began her tenure in Oakland as a 9th grade English and PE teacher at Life Academy of Health & Bioscience in 2005 when it was a newly-formed small school in the San Antonio neighborhood. After a decade of this work, she transitioned to supporting principals and school leaders in providing high quality feedback to beginning teachers. Always with students at the center, Jill has been a strong advocate of changing systems and habits within schools to allow teachers to be better resourced and joyful in their work. She believes strongly that healthy teachers who are doing the work of unpacking their relative power and privilege lead to more equitable outcomes for students. She has a BA from Santa Clara University and a Masters in Education from UC Berkeley. You can find her writing at Teaching Tolerance and Edutopia.
Jane Mayer, Director of Los Angeles Region
Jane Mayer taught English, drama and science for five years in public and charter schools in Los Angeles before she left the classroom three years ago to grow The Teaching Well with Kelly Knoche. She holds a master's degree in Education from UCLA and a B.A. with honors from the University of Virginia, alongside apprenticeships and years of training in trauma work, herbal medicine, sound healing, somatic-based healing practices and high-level executive coaching.
She now works with individuals + organizations to heal outdated patterns, unprocessed trauma, old paradigms of thinking and blocked channels of communication that prevent them from reaching their highest potential. She knows that our schools hold the seeds of an inclusive and thriving society and believes that teachers and administrators, when fully-embodied in their power and visions, will lead us to long-awaited personal and societal transformations.
She is honored to lead the work with central offices, principals, and school leaders for our clients in Los Angeles.
Margarita Acosta,
Mindful Support Specialist - Bay Area Region
Margarita Acosta was a child of the Peace Movement in El Salvador. Her experience growing up around the astounding resilience of the Salvadoran people during and after the Salvadoran Civil War (1980-1992) made her passionate for finding and working to change the root causes of systemic societal problems.
She began her teaching career in the Mission District of San Francisco in a 3rd grade Spanish bilingual classroom where all of her students were first or second generation immigrants. At the same time, she began working with the Center for Critical Environmental & Global Literacy and began traveling back to her roots in Latin America. Depleted and struggling to meet the Social & Emotional needs of her students, in a school environment more focused on the students' test scores than their well being; she found Yoga, Mindfulness and Ayurveda as tools to continue her work. Around the same time, she also discovered the Montessori Philosophy of education, a pedagogy that places each child's spirit at the center of classroom culture. She taught at Public Montessori Schools in Washington D.C. and in Oakland, where she finally felt the freedom to develop a curriculum developed with an eye towards Social Justice, Deep Ecology and Environmental Education.
She holds a B.A. from Bryn Mawr College, a Masters in Education from the University of California, Berkeley, a 200 hour yoga from the Laughing Lotus in San Francisco and is currently working on an additional 300 hour certification at Namaste Yoga & Wellness. She currently lives in a diverse 23 person co-op where she gets to witness the power of community resilience every day. She considers herself to be a lifelong student of nonviolence- she is inspired by the lives and messages of Gandhi, Dr. Martin Luther King Jr., Vandana Shiva, Archbishop Oscar Romero and others as foundational in her work for Liberation.
Judee Fernandez,
Mindful Support Specialist - Los Angeles Region
Judee Fernandez is an educator, facilitator and coach who recently worked as a resilience and trauma informed practices coach for a national initiative focusing on school employee well-being. Judee began her work in schools as a high school Spanish teacher who later co-founded First Generation Institute, a firm focused on providing professional development for teachers in the area of cultural relevance and equity for students of color in public schools. Judee has worked as a Wellness Director & Assistant Principal at New Village Girls Academy and a high school Principal with San Francisco Unified School District. Judee holds a Bachelor of Arts Degree in Spanish and Education from Loyola Marymount University, a Master Degree in Latin American Studies from Cal State Los Angeles and a School Leadership Certificate from the University of Southern California.
Judee is dedicated to creating an equitable world where people in under resourced communities have an opportunity to heal and thrive. She is an inspirational public speaker, a human rights advocate, and a lover of nature who resides in Los Angeles, California.
Michelle Kurta, Mindful Support Specialist - Los Angeles Region
Michelle Kurta is an educator, coach, facilitator working in the dynamic intersections between teaching/learning, healing, and justice. For over 15 years, Michelle has engaged in educational activism as a student, organizer, and teacher. Prior to becoming a trauma-informed practices coach for educators and school staff, Michelle taught English Language Development, Language Arts, and Psychology at the School for Visual Arts and Humanities in the LAUSD. Michelle earned a Masters degree in Depth Psychology from Pacifica Graduate Institute and an M.Ed in Urban Education and Single-subject Teaching Credential from UCLA's Teacher Education Program. Michelle most recently worked as a resilience and trauma-informed practices coach for a national initiative to support school employee wellness in California and Colorado.
In her work as an educator and coach, Michelle hopes to share insights and tools for disrupting the explicit and unconscious patterns of systemic injustice and attending to the wisdom of our own bodies in service of personal and collective healing.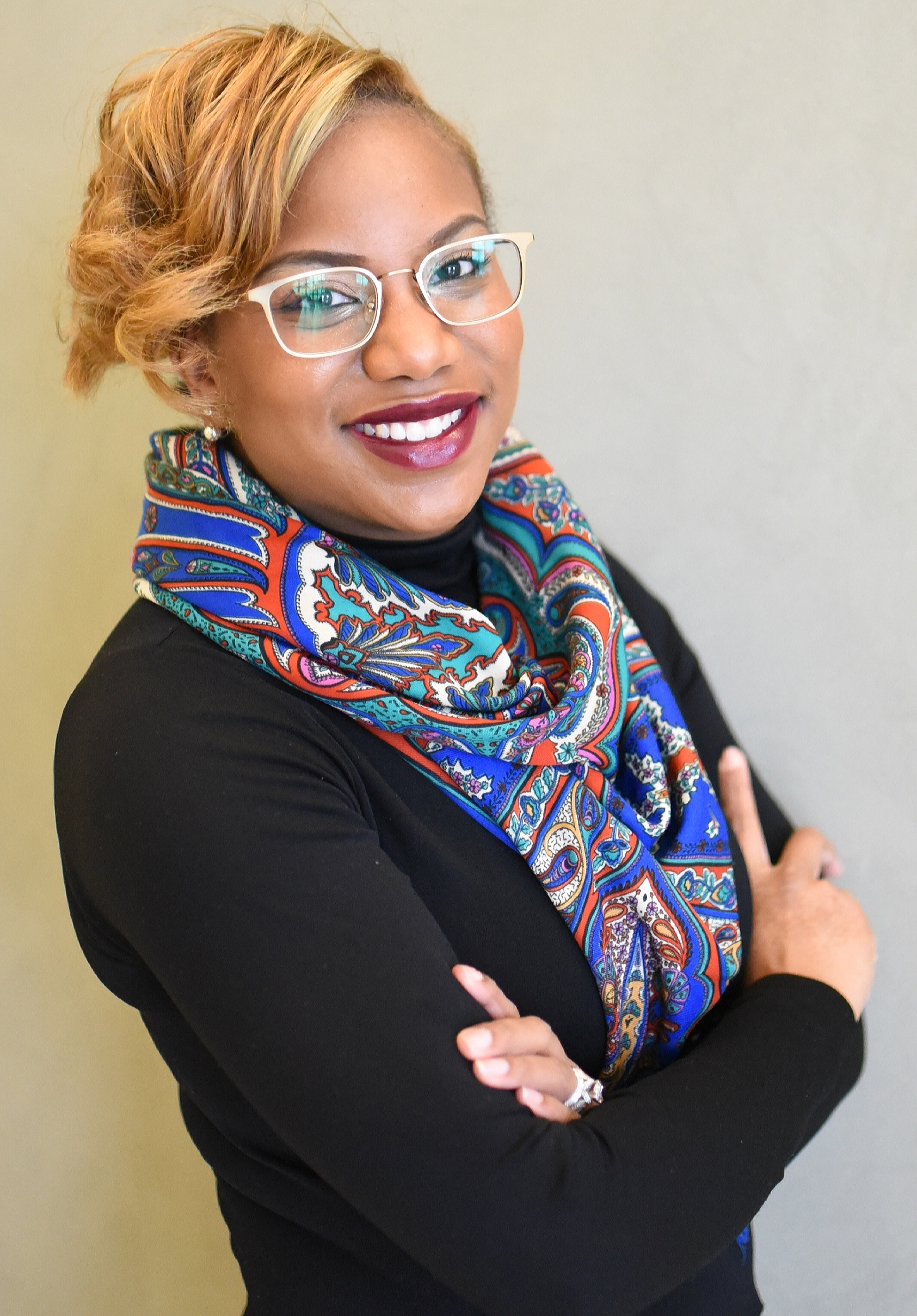 Dr. Chanee Hawkins Ash, Lead Researcher
Dr. Chanee Hawkins Ash is a passionate educator, researcher, and education strategist with a career marked by success in school transformation consulting, community and stakeholder engagement, education research, and project management. She is well versed in conducting needs assessments, devising system and process improvements, and engaging in program strategy, design, and delivery focused on growth and success.
Chanee is respected for contributing to successful school quality reviews, school redesign efforts, teaching, and conducting education research focused on understanding how systems of race and class impact the educational ecosystem and perpetuate structural inequity. As a product of America's public schools, she knows first-hand that access to quality and equitable education experiences is not guaranteed. However, she holds an unequivocal belief that with the proper policies, supports, and advocates, all students have the ability to succeed beyond the trajectories that society has set to artificially limit them.
Dr. Chanee Hawkins Ash is a co-founder of Foresight Solutions, a P-12 and higher education consultancy and has worked with a diverse portfolio of partners including public school districts, higher education institutions, labor unions, government agencies and private sector corporations. Chanee earned her B.A. in English from Truman State University and her M.A. and Ph.D in Education Policy, Organization and Leadership from the University of Illinois at Urbana Champaign.